The Minimalist Edit
Posted by Jones Bootmaker on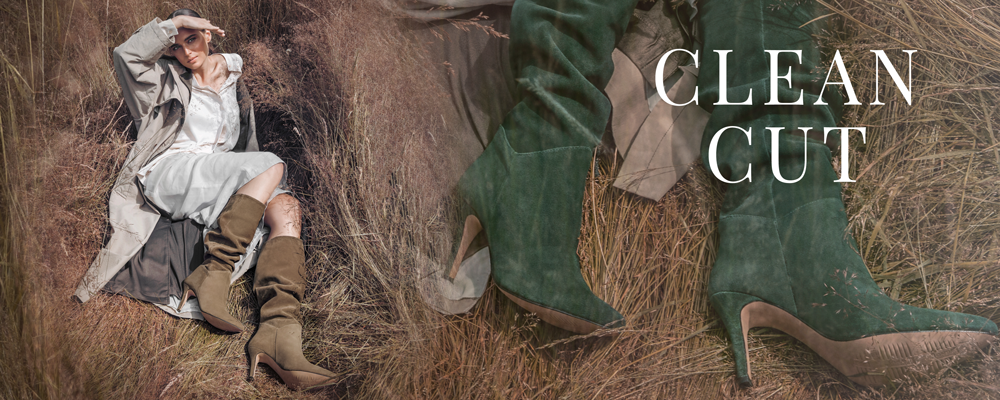 What is Minimalism?
Minimalism. A term tossed around in many a style circle, from interior design to the art scene, and the halls of haute couture. 
Despite what you might have heard, minimalism is more than just a clean aesthetic. 
In essence, minimalist style means crafting a carefully curated edit of clothing and rejecting the need to chase after passing fads in favour of adopting made-to-last modern classics, appropriate for a multitude of occasions. 
HOW TO ADOPT MINIMALIST STYLE
Minimalism is all about choosing quality pieces in timeless silhouettes. While that often equates to clean and traditional construction, boring simply isn't on the agenda. Characterful design, that looks just as good as it feels, goes to the very core of the minimalist style. 
At Jones, we've been championing well-crafted, clean-cut, comfortable, and functional footwear since our humble beginnings in 1857. 
From beautifully crafted boots to bright white leather sneakers, discover the expertly crafted shoes and boots that will form the foundations of your minimalist edit for now, and for years to come. 
Made to Last
A mainstay of men's style since Queen Victoria reigned, traditionally crafted Chelsea boots make for a season-round investment piece you can depend upon.
Brown, black, and suede iterations make timeless staples you can deploy for almost any occasion, casual or otherwise. 
Style sleek chestnut Chelsea boots with similarly neutral tones. Might we recommend an infinitely classic camel trench coat? 
Our Deakin leather Chelsea boots bear all the hallmarks of minimalist style. Well-considered design, robust construction, and the finest materials around, Deakin are set to age like fine wine. 
Firm Favourites
Yet another style steeped in heritage, the origins of monk strap shoes predate the inception of Chelsea boots considerably. 
A single-strap monk shoe makes a considered choice for the discerning gentleman. 
More elusive than their formal brothers, Oxford shoes and Derby shoes, the monk shoe wears its well-defined craftsmanship for all to see, minimally styled with a simple strap and buckle fastening. 
 Our Justin leather monk shoes are a firm favourite for the office setting, delivering unique charm and beautifully crafted design. Pair with tailoring to show off their clean lines. 
Plain & Simple
If there's one style that belongs in every wardrobe, it would be white leather sneakers. 
Not only do white chunky sneakers embody the clean aesthetic of the minimalist style, but their innate versatility also makes them a sartorial powerhouse you can turn to occasion after occasion, year on year. 
Just makes sure to opt for a structured pair carved from smooth leather and made to last. Be sure to keep them squeaky clean to maintain their minimalist appeal and ensure longevity. 
White platform sneakers will add definition to any outfit. Offset with softer fabrics in looser cuts to adopt Scandinavian chic. 
Style Reboot
When curating your own minimalist wardrobe, shoes in brown, tan, black and white will cover all your style bases. 
Once that's sorted, spare a thought for other shades that will serve to break you out of the mid-season style rut. 
The most sophisticated shade of all? Dove grey. 
Lenore
Sleek, heeled ankle boots, crafted in buttery leather, will instantly reboot your style, and inspire a myriad of new combinations within your pre-existing wardrobe. 
Our heeled ankle boots, Lenore and Neptune, take minimalist style seriously. Each sculpted pair is fastened courtesy of a quick instep zip for instant dressing, minimal effort required. 
Neptune
Classic Allure
Of course, a clean aesthetic doesn't have to be all hard edges. Suede offers a softer touch that serves to balance out the firmer boundaries of any design. 
Take the Luz stiletto knee-high boots for example. Luz epitomises the minimalist mantra with their modern-classic style. Constructed in soft suede, their sensually slouched silhouette contrasts with a pointed toe and pin-thin heel. 
 Effortlessly stylish from every angle, simply pull on Luz to wear. Pair with a fine-knit midi dress and a simple chain necklace for the ultimate cosy ensemble. 
Share this post