Spencer: Steal Diana's Style
Posted by Jones Bootmaker on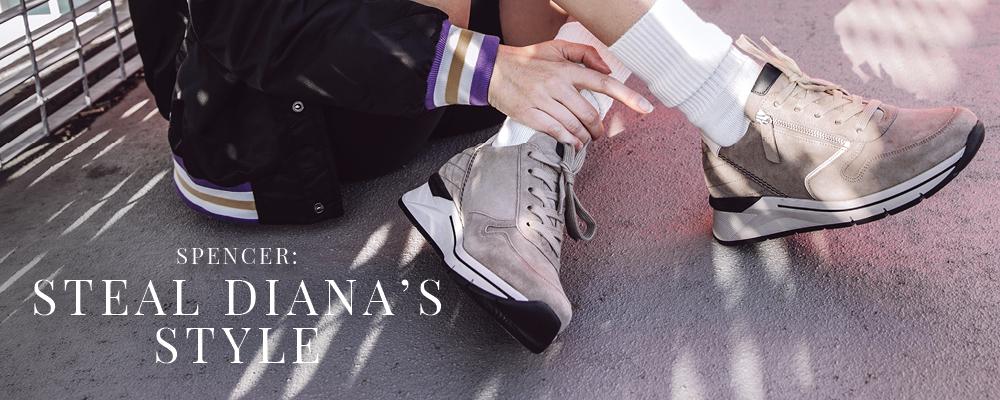 There are few people who have had an impact on fashion, and the world, quite like the late Diana, Princess of Wales. In the years leading up to and following her elaborate wedding to Prince Charles, every look honoured Royal protocol, whilst reflecting her fun and young personal style, through bright colour blocking and vibrant prints. Evening gowns by Catherine Walker and Bellville Sassoon were a staple in her going out wardrobe, but fast forward a couple of decades, and it is her off-duty street style which she is loved best for. 
A mum as much as a Princess, the images of a laid-back dressed Diana taking her young sons to school are perhaps now the nation's favourite images of her. Whether she was heading to the gym in her much loved sweatshirt and cycling shorts combo, or hopping into a car wearing jeans and a blazer, her casual style remains a fashion inspiration for new generations across the world. Reignited by both Emma Corrin's portrayal of Diana in the Crown, and the release of Spencer, starring Kristen Stewart, the fashion world continues to find new inspiration in Princess Diana's fashion choices. 
So, how to steal Diana's style? Firstly wear what you love, and what you feel comfortable in. The late Princess always opted for pieces which she felt comfortable in, especially in her later years raising her two children. Diana's casual looks were often put together from her capsule wardrobe of athletic-inspired pieces. A pair of high waisted blue denim jeans are always a great start point, as are a pair of classic black biker shorts. When it comes to sportswear, Diana favoured oversized sweatshirts and varsity jackets, most famously a green Philadelphia Eagles NFL jacket. Plus, don't forget your tube socks! Most importantly, wear it with kindness and a smile á la Diana. 
"I like to be a free spirit. Some don't like that, but that's the way I am." - Diana
Share this post